Channel 5 uses Guidance (G) ratings to warn viewers of any content that may be distressing or unsuitable for children. 
G-ratings are used on programmes from all our channels, including partner channels such as BLAZE and PBS America.
In My5 and Demand 5, you will see a G icon on any episode that is G-rated, with an explanation for the rating.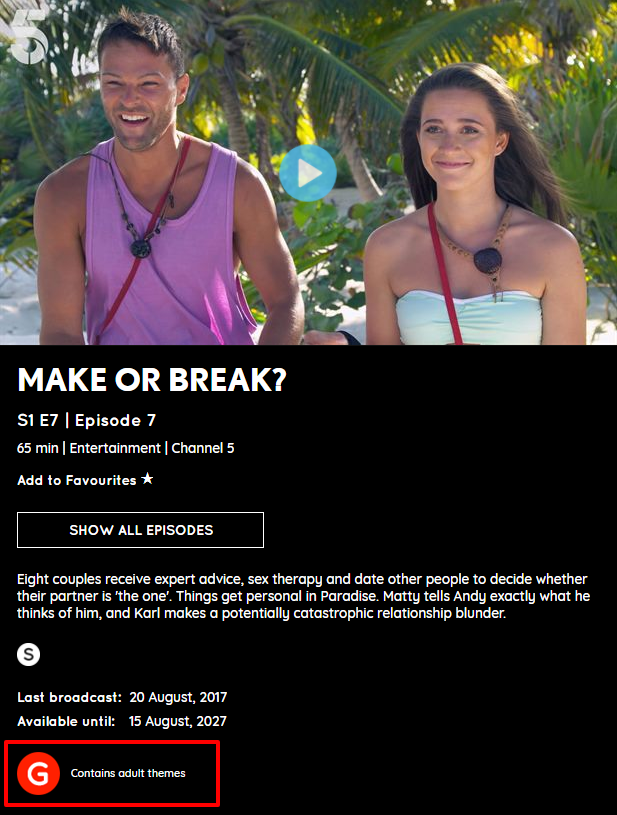 Common G-rating labels include:
General adult humour or adult themes
Strong or mild bad language
Nudity
Flashing images
Animal abuse
Murder or assassination
Sexual images or discussions
Surgery or medical procedures
Drug use or drug references
Violence, including bombings, genocide, gun violence and war
Autopsy
Torture or abuse
Channel 5 also uses general G-rating labels when the show contains distressing or disturbing content.
Watching G-rated content
To watch a G-rated show, you'll be asked to confirm that you are over 16 (or over 18 for some shows) and accept our Terms and Conditions.
If you would like to restrict access to G-rated content, you can create a PIN.
For more information, see the following topic: Can I restrict which shows my children can watch?